3 December 2013
Asymmetric Love Number 2 featured in Vanity Fair France
The complete article, "This is the Future!" written by Alexis Jakubowicz, is available here.





26 November 2013
Performance at Mutuo Centro de Arte, Barcelona
As part of The Wrong/New Digital Art Biennale, I'll be performing technological selection of fate for The Sacred Machine on Thursday November 28, 2013 at 8pm CET at Mutuo Centro de Arte in Barcelona, Spain.





22 November 2013
Artist Talk at MAK
On Saturday November 30, 2013, I'll be giving an artist talk at MAK, The Austrian Museum of Contemporary Art, along with "Out of the Box" curator Katja Stecher, and artists Matthias Tarasiewicz and Andrew Newman.





13 November 2013
Liberator Test Rounds debut at MAK, The Austrian Museum of Contemporary Art
Liberator Test Rounds is a series of stretched canvases with gun shots by the 3D-printable single shot handgun, the Liberator. The shots were fired into the canvases using three models of the Liberator, which was sourced from the Pirate Bay.
The series explores the reappropriation of technology as a tool for creativity, expanding the way people consider their potential use as well as the absurdity of fear and the reaction of disempowerment when we lack understanding. The resulting paintings are abstract, and the process of making the piece is as important as the finished work.
Liberator Test Rounds will debut during Out of the Box at MAK, Austrian Museum of Contemporary Art.





13 November 2013
The 1% Series debuts at MU in Eindhoven, NL
The 1% Series isolates pixels at the center 1% of the highest selling paintings of the last 100 years. The titles are determined by the paintings' most recent selling prices at auction. The series will debut at FAT GOLD: Five Years of Free Art & Technology at MU in Eindhoven, NL, which runs November 12-January 26, 2014.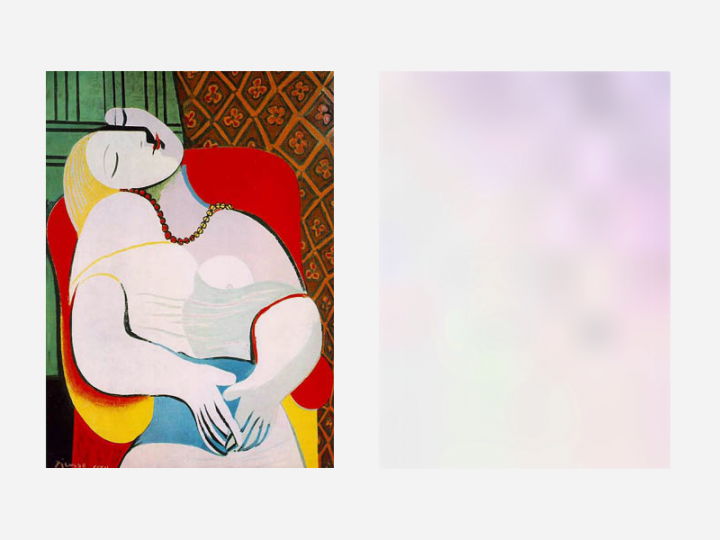 5 November 2013
Art, Activism, and CCTV
Asymmetric Love Number 2 is discussed in an essay called "Art, Activism, and CCTV" by Joanne McNeil.





3 November 2013
THE F.A.T. MANUAL launches at FAT GOLD Europe!
THE F.A.T. MANUAL documents hundreds of F.A.T. Lab projects in a how-to format, encouraging readers to hack and redistribute them. It's part archive, part catalogue, as well as a user manual and a software handbook documenting five years of thug life, pop culture and research and development.
The book is edited by Geraldine Juárez and Domenico Quaranta, co-published by Link Editions, MU, and F.A.T. Lab, and features texts by Régine Debatty, Evan Roth, and Randy Sarafan.
Download a FREE PDF of THE F.A.T. MANUAL here, order the paperback version on Lulu.com, or pick one up on Friday November 15 at the opening of FAT GOLD Europe!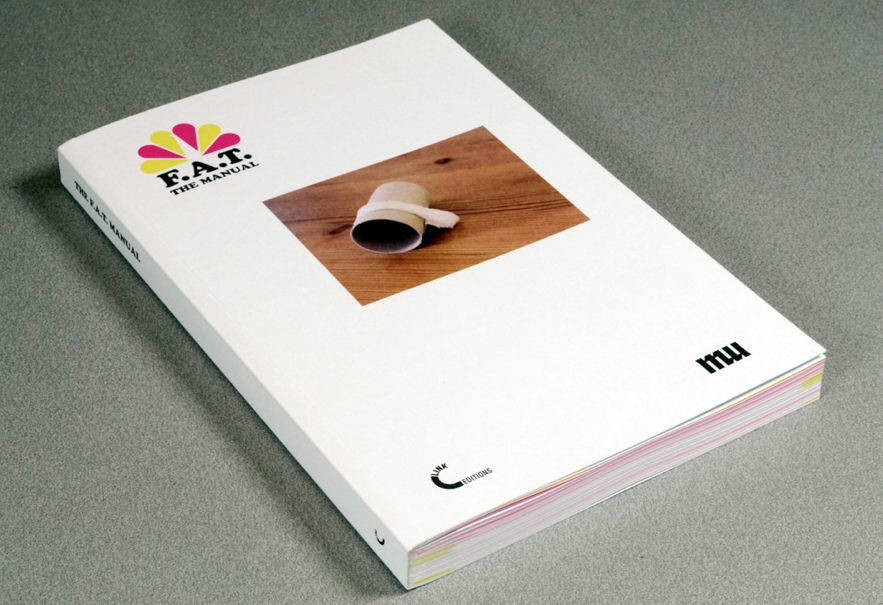 1 November 2013
I'm participating in The Wrong/New Digital Art Biennale
Olia's Chapel, curated by Helena Acosta, opens today as part of The Wrong biennale. The exhibition is inspired by the work of net art legend Olia Lialina.
What is the folklore in the digital age? How do we relate with this codes of language? Is there a native expression that makes up the universe of online culture? The artist and researcher Olia Lialina is considered as the mother of all theoretical structures related to these questions. This is her Chapel, formed by a select group of artists who developed an argued discourse about the study of the forms and the content, of what we might call the new online amateur culture, here is a statement that frames it: they are artists who go Beyond Folklore, they are The Olia's Chapel.
Artists include: Nick Briz, Dragan Espenschied, Parker Ito, Olia Lialina, Tobias Leingruber, and Addie Wagenknecht.





16 October 2013
brbxoxo launches
I'm excited to announce a new piece, brbxoxo, made in collaboration with Pablo Garcia. brbxoxo searches online sexcam sites and only broadcasts feeds when the performers are absent.





11 October 2013
Asymmetric Love Number 2 is the top sale from Paddles On! at Phillips Auction
New York-based collector Robert D. Bielecki now owns Asymmetric Love Number 2. He purchased the piece at Phillips Auction House in New York, where it was the top sale of the night. The auction was curated by Lindsay Howard and co-organized by Phillips and Tumblr.
The work will remain on view at Phillips (450 Park Avenue, New York) through Sunday afternoon.





10 October 2013
_MON3Y AS AN 3RRROR Exhibition
I'm participating in an online exhibition from M0US310n.net on the subject of money and error, organized by anonymous curator "Vasily Zaitsev":
M0N3Y AS AN 3RRROR | MON3Y.US proposes to establish connections, dialogues, and new insights into the contemporary art scene around the general topic of MONEY. Around 70 international artists selected with various aesthetic and conceptual approaches who work in fields such as Digital Art, Net Art, New Media, Interactive Art, Glitch Art, Video Art, Online Performance, and Animated GIFs.
Artist include: Rafaël Rozendeal, Paolo Cirio, Anthony Antonellis, Aaron Koblin, Takashi Kawashima, Lorna Mills, Yoshi Sodeoka, Kim Asendorf & Ole Fach, and Addie Wagenknecht, among others.





27 September 2013
Interview with We Make Money Not Art
Régine Debatty interviewed me for We Make Money Not Art:
"I think women of my generation were raised to believe that we can have it all, but that theory had never really been tested, our mothers gave us something impossible. At the same time, I was playing with materiality and preconceived notions of perfection within my own work. I wanted to let go of that in a playful way. I never wanted to be responsible for feminism, yet this particular notion made sense and I want to have the poetic liberty to give that away to someone else who really wants it."
Read the full article here.





27 September 2013
National #Selfie Portrait Gallery
Curators Kyle Chayka and Marina Galperina will present National #Selfie Portrait Gallery, an installation of 19 emerging artists from the EU and the US who have created short-form videos engaging with the medium of the "selfie," the omnipresent slang for digital self-portraits found across all social networks.
The artists, including Bunny Rogers, Addie Wagenknecht, Jayson Musson (Hennessy Youngman), Yung Jake, Leslie Kulesh, and Jesse Darling, were selected specifically for their established practices, ranging from poetic internet confessionals to humorous commentaries on exhibitionism and experimental new-media portraiture.
Exhibition:
17 - 20 October 2013
The Bargehouse, London





30 September 2013
Phillips and Tumblr announce Paddles On!
Phillips and Tumblr have partnered with curator Lindsay Howard to present Paddles On!, the first auction dedicated solely to digital art at Phillips. See the full works available for auction here, including Asymmetric Love Number 2.
The Wall Street Journal wrote an article about the event.
Exhibition:
5 – 12 October 2013
Phillips Auction House
450 Park Avenue, New York
Artists include: Silvia Bianchi + Ricardo Juárez, Petra Cortright, Alexandra Gorczynski, Joe Hamilton, Ilja Karilampi, Brenna Murphy, Aude Pariset, Sabrina Ratté, Casey Reas, Rafaël Rozendaal, Nicolas Sassoon, Molly Soda, Kate Steciw, Mark Tribe, Clement Valla, Addie Wagenknecht, and Jamie Zigelbaum





26 September 2013
Prism Break Barbie launches at Eyebeam's PRISM Breakup
In October, Eyebeam will host PRISM Breakup, a series of events dedicated to exploring and providing forms of protection from surveillance. I'll be showing Prism Break Barbie, a solution for girls who want to protect their data beyond just encryption. In less than 5 minutes, you can create a simple, discrete and TSA approved, non-threatening device to destroy hardware.
Exhibition:
4-12 October 2013
Eyebeam
540 West 21st Street, New York, NY
PRISM Break Barbie from Addie Wagenknecht on Vimeo.